Having eczema prone skin can be an untimely hassle especially when flare ups pop up out of nowhere. Some of us have had eczema since we were children while it crept on the rest of us as adults. Eczema prone skin means you're dealing with dry, itchy, sore, flaky , and red skin. Dealing with eczema means you need to know why it's happening.
Eczema prone skin tends to have flare-ups. These flare-ups are often caused by certain chemicals coming into contact with the skin such as detergents, soaps, even some jewelry. Allergens and certain bacteria can also cause flare-ups. When dealing with flare-ups it's good to have a moisturizer that will provide quick relief. The Oatmeal and Shea Body Butter by Flora and Noor is made with colloidal oatmeal to help relieve your skin from being itchy, dry, and irritated. This body butter also has grapeseed oil which is used as an emollient for the skin.
Emollients are barriers that cover the top of the skin to lock in moisture. This is ideal for eczema prone skin as it will help prevent dry and flaky skin. Now just because you have a moisturizer with emollients doesn't mean you apply it once and your skin is fixed. You should  be applying your moisturizer to the troubled areas multiple times a day. Especially when it is the winter and your skin is constantly exposed to cold and dry weather. Additionally, finding the right skincare for sensitive skin is most important when it comes to skin concerns and conditions that need extra TLC.
If you are dealing with extreme symptoms of eczema, you should go to a doctor as they are more likely to provide you with a steroid cream. Steroid creams can be used to treat eczema symptoms, such as itching and inflammation, and come in a variety of strengths. You should still utilize a good moisturizer when you can. The best creams and topical treatments for eczema prone skin are free of irritants and usually have large amounts of ceramides to help moisturize the skin.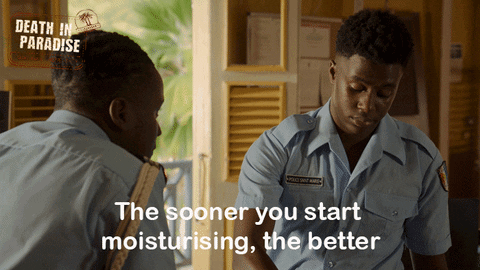 Some people with eczema prone skin feel that exfoliating  is damaging to the skin. It is good to use gentle exfoliants that won't be too abrasive but using a generic sugar scrub like the Shea Sugar Scrub, from time to time is still beneficial. Exfoliating helps get rid of the flaky skin. Gentle exfoliation should be incorporated into your skincare routine regularly along with consistent moisturizing. 
Having eczema prone-skin is something that either is an everyday problem or for some of us just comes and goes. It is important to pay attention to what your skin comes in contact with to avoid flare-ups and to keep your skin moisturized to the best of your abilities.